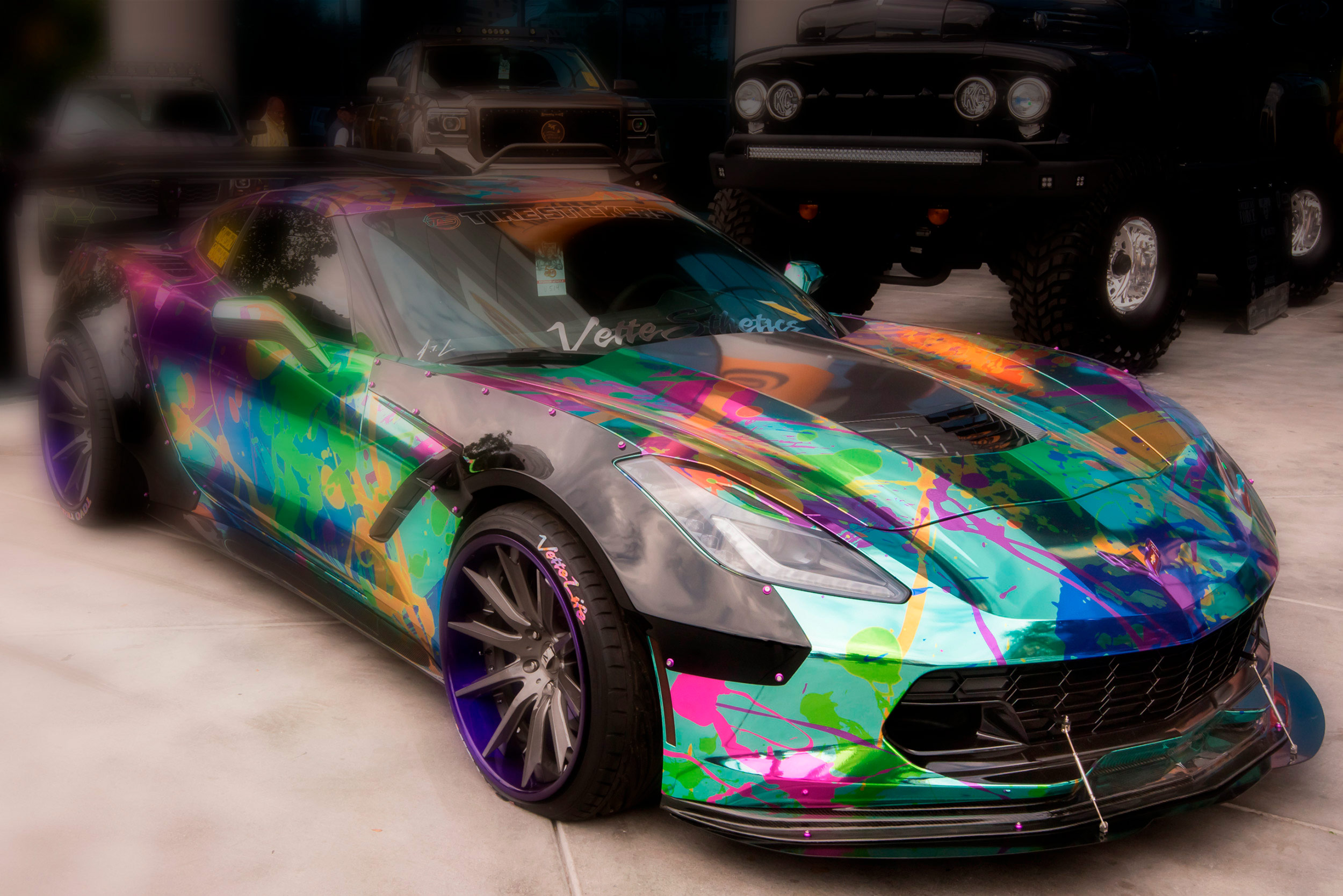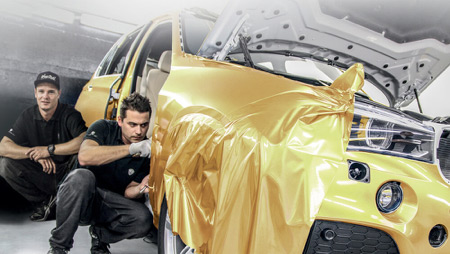 Vehicle wrappings are much more than just an alternative to a new paint-job.  The film application to the bodywork by our specialists takes two to three days. The films cover the original colour of the bodywork, they are colourfast and protect the original paint at the same time. This solution is an ideal for those wishing an original appearance or for companies looking for a uniform corporate style of vehicles. These are suitable for full-area advertising, since the film can be printed with any pattern or text. We also offer transparent films protecting the bodywork. More information can be found in the section "Comprehensive Detailing - Application of OpticShield Protective Films".
If you really have no notion what the vehicle will finally look like, then contact us and we will (as agreed upfront) design an original appearance for you.

You can be sure that our years of experience, precision workmanship and the top-quality materials are just right for your car — virtually hitting the spot. The advantages of those films are undeniable. Only a few are aware of the fact that regardless of whether you opt for a transparent or colourised film, it will always protect your vehicle against stone chipping, vandalism, small parking ground collisions, roadside branches, the rotary brushes in the car wash, asphalt, road salt in winter and insects in the summer, Those films can be treated just like normal paint. They can be polished, finely sanded (opaque films excluded of course) and waxed. They withstand of course also the operating fluids, as petrol, antifreeze or various oils. Above all, you can remove them within just a few hours - without leaving any glue-residue on the vehicle. This film will last for up to 10 years and the paint beneath it will stay as new. The use of those films can be actually seen as an extremely effective paint protection measure. This holds true of course, if the films are applied by a real expert - providing the appropriate knowledge, experience and craft-quality. After removing the films we recommend to wash the car and polish its bodywork. We also wrap helicopters, ships and motorcycles.

WRAPPING AND DETAILS
Standard or Premium? We always seek a 100 % coverage of the original colour with as few joints as possible, even in problematic areas - such as pressings, wrinkles/edges etc.. If possible, we also remove the door handles, mirrors and trimmings. Only so we can ensure a perfect fit of this "disguise". By default, the films are applied to vehicle panels individually and wrapped around the edge by 3-5 millimetres. This approach is absolutely sufficient if the original colour e.g. is black. If the original finish is white and you chose a film of completely different colour - we recommend the professional removal of some bodywork-parts and wrapping also some parts of the vehicle's interior. Only in this way can we guarantee a perfect appearance of your car.




THE ADHESIVE FILMS USED BY US ARE VERY HIGH QUALITY AND EASY TO REMOVE:
They are highly shapeable - without shrinking afterwards
The are colourfast - the shades and their density remain preserved
Stable under all conditions - even in heavy frost or scorching summer heat
UV-resistant
Removable without any residues - those protective films can be removed without damaging the original paint
They are durable — reaching a lifespan of five to seven years
You can have any theme printed on it
It can be washed as normal in the car wash, sanded, as well as polished
0.10 mm thick - paint protection and perfect coverage even without stretching
Certified material - non-combustible and self-extinguishing
Easy to repair - in the event of a collision with another vehicle, simply replace the wrapping just (and only) at the spot damaged
The film can be additionally insured with the motor and hull insurance


WRAPPING vs PAINTING
The advantage of vehicle wrapping does not necessarily need to be the price. The main purpose of wrapping is a quick and easy colour-change of the car in line with the latest trends or to make one stand out from the others. These films make all that possible. The bonus here is the aforementioned paint protection. This holds true especially for exclusive cars, which is an interesting aspect because repainting (even if it is an extravagant shade) automatically results in a loss of value.


6 TOP REASONS FOR A COOPERATION WITH US
A strong and respectable brand
Experience
Innovation
Professional approach
Sharing practical experience
Partnerships and manufacturers

FILMS FOR SHIPS AND YACHTS
EXTERNAL APPEARANCE AND COMPLETE colour CHANGE
Surface modification using adhesive films is becoming increasingly popular with yachts. Compared to a complete re-painting of the vehicle, the film-wrapping is significantly cheaper. It is also very robust. With this technology, you can protects a ship or yacht or change its colour really quickly.
 The film is durable and resilient and keeps its properties, as e.g. the colour or "gel coat". Easy cleaning and adjustment. The film (foil) protects against detrimental effects of UV-radiation and wind Our experienced team will apply this film to your ship or yacht professionally — anywhere in the world for just a third of the price of a new coat or "gel coat".

INTERIORS AND THEIR MODIFICATIONS
By adding or only changing some details — the ship gets a unique appearance.  By using the special effects of the film, the interior will look interesting or simply just like new.

PROTECTIVE POLYURETHANE-FILM
This protects against wear and tear and eliminates paint-damage
Optically clear
Protects your ship against damage
Extremely hard
Anti-slip version - useful especially at the sea
The film must be installed by experienced professionals and can be removed without any residue and without damaging the original material beneath it